Block-level Link Analysis
---
Introduction
Link Analysis has shown great potential in improving the performance of web search. PageRank and HITS are two of the most popular algorithms. Most of the existing link analysis algorithms treat a web page as a single node in the web graph. However, in most cases, a web page contains multiple semantics and hence the web page might not be considered as the atomic node. In this paper, the web page is partitioned into blocks using the vision-based page segmentation algorithm. By extracting the page-to-block, block-to-page relationships from link structure and page layout analysis, we can construct a semantic graph over the WWW such that each node exactly represents a single semantic topic. This graph can better describe the semantic structure of the web. Based on block-level link analysis, we proposed two new algorithms, Block Level PageRank and Block Level HITS, whose performances we study extensively using web data.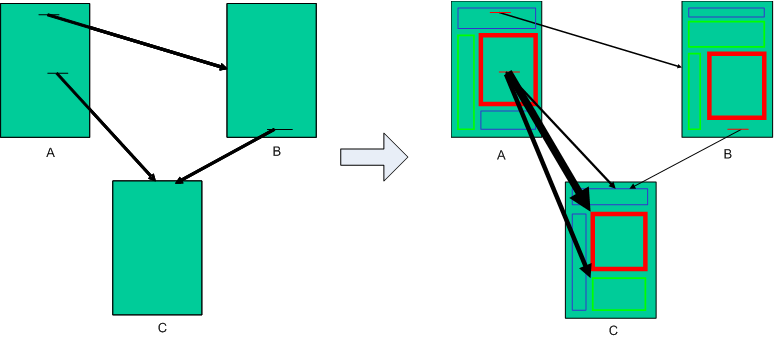 ---
Discussions on the Web
"Rank and Page Segmentation" on A Networked World March 21, 2005

"Link Building in Light of VIsion-based Page Segmentation" on Search Engine Guide (www.searchengineguide.com) By Search Engine Articles and Press Releases - March 01, 2005

"Page layout drives Web search", reported by Technology Research News (www.trnmag.com) By Kimberly Patch, Technology Research News - October 06, 2004

Discussed on A Forum For Clever Computer Science Ideas (ideas.web.cse.unsw.edu.au) August 28, 2004

"MSN Block-level link analysis " on SEO Services, Search Engine Optimization Company. SEO Consultant Expert SEO Company (www.seo-guy.com) Aug 26, 2004

"Block level analysis - microsoft work on new link analysis" on Website Promotion UK (www.storebuilder.co.uk) Posted on Wednesday, August 25 @ 13:38:30 CDT by storebuilder

"Block-Level Link Analysis - What Does It Mean To You?" on Search Engine Promotion Help (www.searchenginepromotionhelp.com) Originally Published: August 24, 2004

"Microsoft's new research : Block-level link analysis" discussed on Cre8asite forums. [ Search Engine Optimization, Usability and Web Design. ] (www.cre8asiteforums.com) Aug 13, 2004

"Block (Passage) Level Link Analysis by MSN" on Search Engine Roundtable (www.seroundtable.com) July 30, 2004

Discussed on SearchEngineWatch Forum (forums.searchenginewatch.com) July 29, 2004

......
For more, please search Block Level Link Analysis on Google
Last modified: April 17, 2005